Last week on the RHOC, Tamra had her breast reduction surgery, Gretchen had started auditioning for The Pussycat Dolls and, of course, there was more drama with Vicki.
Just another day in Orange County, right? Is there any other type of day?
Let's check in with these crazy women once again with THG's +/- recap!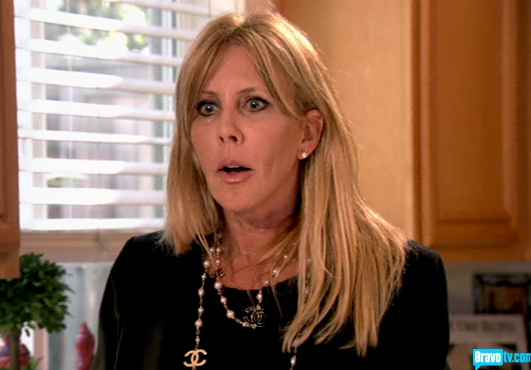 Vicki visits Tamra and asks "Where are your boobs?" Then Vicki tells Tamra that she and Alexis are friends now, except "you can't fix stupid anywhere in the world."
This friendship is going to be an awesome one, right? Because friendships motivated by jealousy always are.
Alexis, meanwhile, is planning a Glamour Camping (Glamping) party and she's making S'more's goodie bags. She thinks it'll be great to get the girls together in a place where they can lounge in their sweats and get to know one another.
Except her nose isn't entirely healed so she can't carry anything heavy or bend over. I can't wait to see how Glamping goes. Can't wait. Plus 10.
Gretchen's nursing a sore throat and Slade tries to help her rest her voice by telling her to text him if she needs anything from downstairs, to which she replies "I'm writing it!" Minus 5 for missing the point.
Alexis is really concerned with her nose. Vicki says she can't even tell Alexis had a nose job, but that's because she doesn't spend a lot of time staring at Alexis' nose. It's totally obvious she's had a nose job and on top of that she won't stop talking about it.
Brianna, Heather, and Vicki trash talk Alexis' decision to bring her hair and make-up girl, Shannon, along as her "medical support" for the trip. And Alexis and Shannon decide to slam dance in their vehicle on the drive to the Glamping facility. That can't be good for Alexis' nose, right?
Eddie comes to visit Tamra and brings her flowers. Plus 5.
Tamra's using her old implants, which she requested to bring home with her post-surgery since they've been a part of her life for so long, as ice packs. Plus 5. Somehow, I find this hilarious and it makes her way more down-to-earth.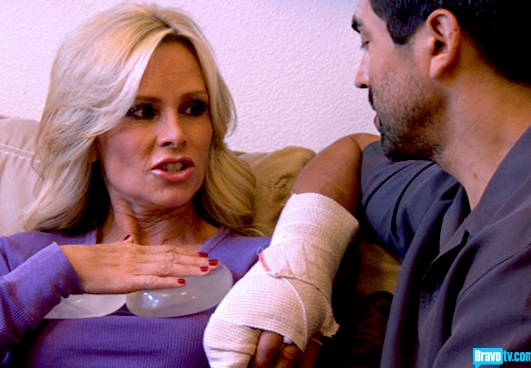 The girls have arrived at the Glamp site and they learn that while they may have King-sized beds, they'll be cooking their own food. Heather takes the lead on what they order which seems to annoy Alexis. Minus 5 to Heather.
But really, Heather's the one who thinks cooking equals opening a take-out container, so letting her order isn't the smartest move these girls could make.
The girls gather around a picnic table and Alexis goes on a tirade about how there's nothing glamorous about this at all! They have no wine! There's no counter space in the bathrooms! They don't have red and white wine glasses! They have no ice for their noses! Minus 10.
Vicki's disappeared from the group to go call Brooks to let him know she's there and she's safe. Brianna says their relationship (Brooks and Vicki) is weird. That's the truth. Plus 5.
Alexis and Heather start talking about how Alexis and her husband are renting their house in a market when they could own. This is hard for Heather to understand and really none of Heather's business. Plus 5 to Alexis for keeping cool.
Alexis brought everyone infinity scarves as gifts for Glamping. In a one-on-one, Vicki says that without Tamra around, she really likes Alexis.
Heather's determined to salvage this Glamping-turned-camping experience, so she actually pays attention to the guy who tells them how to start the fire so they can cook their food. Plus 5.
Alexis, meanwhile, is ready to just order a pizza.
While cooking, Vicki can be heard saying "Ow! I keep burning my fingers!" To which Brianna replies "Stop sticking your fingers in the fire, Mom!"
How did Brianna get so smart? It can't be because she sucked wisdom from Vicki's bosom. Unless she sucked all the intelligence Vicki had.
A skunk crashes their party and Vicki saves the night by shouting at it and chasing it away. If only the skunk had gotten her first.
Vicki uses Brianna's cancer scare for sympathy. Again. And talking about how it's caused her to reevaluate life. She says she wants to make amends for her part in any wrongs that have been done. But only her part. Alexis buys it. Seems like Heather does, too.
Heather calls home and her husband says he's worked his regular life. She got to sleep. She wins.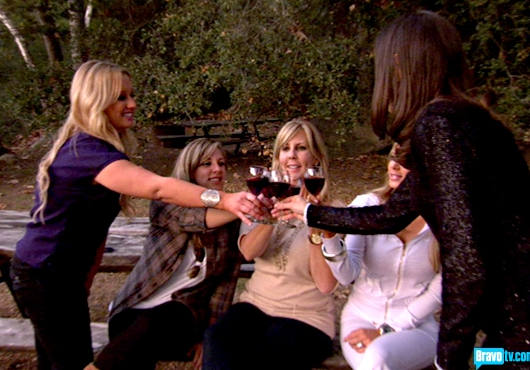 Vicki asks Brianna if she's becoming a rebel and then asks about her relationship with her boyfriend and wonders why she had to find out that Brianna was in a relationship from Facebook. (Uh-oh, Brianna.)
In a one-on-one, Brianna says she tries to keep the details of relationship as vague as possible because her mother will have to know ALL THE THINGS about it otherwise. Smart girl, that one. Plus 5.
With Heather's insistence, Vicki's decided she's going to buy herself something "fabulous" to wear on her ring finger since she's no longer wearing her wedding ring. Alexis says Brooks should buy her a "promise ring." I can't tell if Alexis is joking or serious.
After a "swarm" of bees causes the women to relocate inside the market diner, Heather puts on her financial planner hat when they start talking about safe communities and diamonds. Heather says they should all make sure their diamonds are insured in case of theft and Alexis says she wears a fake one most of the time.
Between the renting thing and the fake ring thing, alarm bells are ringing in Heather's head. Plus 5 for the super sleuth.
Back in the real world, Gretchen and Slade go to a vocal producer's studio to work on her songs for The Pussycat Dolls show. Gretchen's really struggling.
The producer tells her she's going to have to keep working on it. In the car on the ride home, Gretchen blames Slade. If he hadn't done his improv routine, she wouldn't have gotten into that screaming match with Vicki. Slade tells her she doesn't have to fight his battles. Minus 10 all around.
EPISODE TOTAL: +15! SEASON TOTAL: -25!
apple juice apple juice occupy la miranda kerr adriana lima victoria secret angels fox 4